Sunday, February 24, 2019, 04:00pm

Polish Student Association of UW Madison, Polish Heritage Club of Madison, MadPolka Foundation and Department of German, Nordic, and Slavic (GNS)
in cooperation with Sounds and Notes of Chicago (IL)

present
JAROSŁAW BESTER
CONTEMPORARY MASTER ACCORDIONIST FROM POLAND
performing classical folk, jazz, klezmer and his own compositions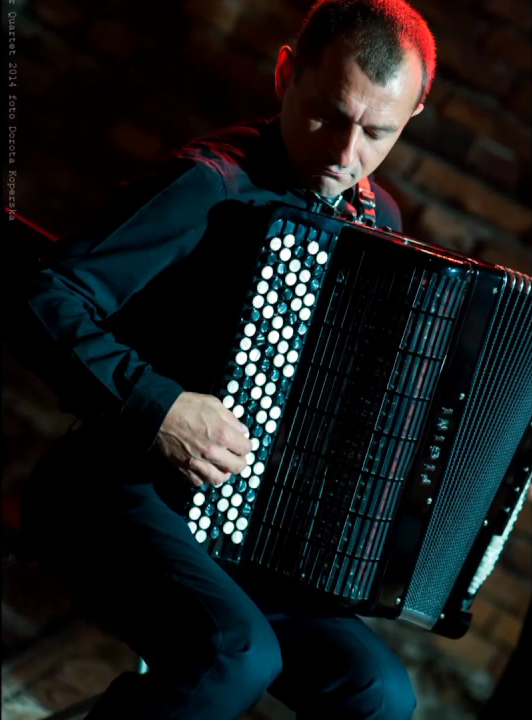 From press release:  This concert is a one of the two live shows in Madison being part of the 3rd Edition of the Chicago's "Chopin IN the City" Festival. The festival is organized by Sound and Notes Foundation and aims at presenting Poland's most interesting contemporary musicians as well as Polish music performed by foreign musicians.
Jarosław Bester – Polish accordion player and a composer, a graduate of the Krakow Academy of Music, a prize winner of several international and Polish accordion contests.
He is a leader of The Cracow Klezmer Band, later named Bester Quartet – the only Polish music ensemble that has been regularly recording for John Zorn's prestigious Tzadik label in New York City since the early 2000's.
In his performing style, he combines his experience in classical, klezmer, jazz and folk music to develop his own interpretation style and to create a powerful mix of technique, sensibility and creativity rarely achieved on the accordion. Because of this unique style, developed over the course of more than 30 years of performing, he is considered today one of the most original accordion interpreters worldwide.
He previously performed live in Madison live in Madison as a part of duo with jazz and classical Chicago -based singer Grażyna Auguścik in April of 2016. He maintains a busy international touring schedule as a solo artist, with Bester Quartet as well as with other musicians. He has performed in USA, UK, Canada, Taiwan, Russia, Ukraine, France, Germany, Holland, Italy, Finland, Belgium, Spain and Austria.
During his tours, he performed with, arranged and composed for many great classical, jazz and contemporary musicians. Among them, such outstanding artists as: John Zorn, Tomasz Stańko, Grażyna Auguścik, John McClean, Don Byron, Frank London, Kurt Rosenwinkel, Ernie Adams, Jerzy Maksymiuk, Waldemar Malicki, Vadim Brodsky, Vitold Rek, Dorota Miśkiewicz and others.

Location: Murphy Hall at UW School of Music 
455 N. Park St. Madison, WI 53706

Map: https://goo.gl/maps/RtsLnzGsuXE2