2017 Year of the Wisła River, Joseph Conrad-Korzeniowski, Tadeusz Kościuszko,
Adam Chmielowski, Honorat Koźmiński and Marshal Józef Piłsudski 2017
.
.
Highlights of upcoming events
and some dates to remember

click on each event for more information

WISCONSIN FILM FESTIVAL
Wajda's AFTERIMAGE on 3/31 and 4/1
WIGILIA with Iwona Glowinska on 4/3
Check also ILLEGITIMATE on 4/2 and 4/4
and ACROSS THE WORLD AND BACK...on 4/2
POLISH MUSIC ON WORT
Playback of the most recent MadPolka program
that aired on 3/20 is available through 4/3
MADISON SYMPHONY ORCHESTRA
Lutosławski's Concerto for Orchestra
will be featured on 4/7, 4/8 and 4/9
PHC's SPRING FESTIVAL
Our Palm Sunday festival will take place on 4/9
Food preorder form with payment due on 3/31

ŚWIĘCONKA (Easter basket blessing)
will take place in several churches on 4/15
.
.
Polish Spring Festival
Join us on Palm Sunday (April 9th, 10am-3pm, see the map below for location) to celebrate Polish Easter traditions and enjoy Polish foods, crafts, music and all sorts of fun activities.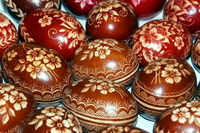 The all-time favorite of both children and adults is watching the performance of gifted folk artists decorating Easter eggs. In Polish language, the colorful eggs have different names depending on the technique used in their creation. But all of them are made to signify the revival of nature and the triumph of life over death.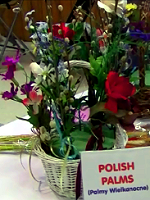 Easter palms are another tradition that took a very special turn in Poland. In the absence of palm trees, Poles use dried or paper flowers, pussy willows, reed and tree branches to construct their palms. The resulting creations are beautifully embellished and many communities back in Poland hold competitions for the most spectacular Easter Palm. In our event, a sample of small palms will be available for sale along with other handicrafts including Easter lambs (baranki wielkanocne) and splashy head wraths (wianki) seen in the slide show at the top of this page.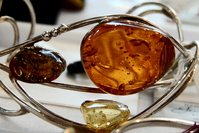 Talking about eye-catching stuff brings us to the elegant amber jewelry from Poland. In addition to local selection of amber pendants, earrings and bracelets, this Festival will feature also an exhibit named "Amber: The Treasurers of Poland's Water". On the backdrop of 3D mural hand-painted by Margie Hess to depict the Baltic Sea, it will display examples of real and fake amber (ways to recognize the fakes will be discussed) as well as samples of jewelry and other amber craftwork.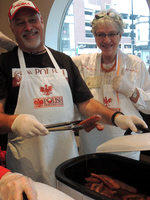 The Festival attractions will include also a big collection of Bolesławiec pottery, toys, Polish books and a raffle with a chance to win one of several baskets loaded with Polish goodies (foods and drinks).
Traditional Polish baked goods on sale will feature pączki, kołaczki, chruściki, poppy seed rolls and breads delivered from Chicago. You can also treat your family or riends to a hot lunch with choices including kiełbasa&sauerkraut, kiszka, as well as pierogi with various fillings. Packages of these items will be on sale in a limited quantity, so to ensure availability, it's best to fill out the preorder form that and make sure it arrives no later than March 31.